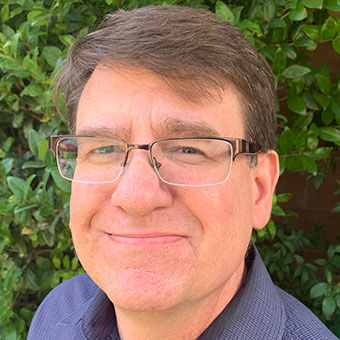 The first thing guests encounter when walking into Circa Resort & Casino in downtown Las Vegas is a security guard asking to scan their ID. It's a procedure put in place to ensure that no one under 21 years old enters, a policy that has been consistently enforced since the property opened in 2020.
Circa and El Cortez, another downtown hotel-casino that is implementing the policy this year, are the only adults-only Las Vegas resorts. In a recent interview in the Las Vegas Review Journal, Circa owner Derek Stevens said that the policy is "one of the things I may have underestimated, but it's been a huge, huge success at Circa."
It's only one of the many things that set Circa apart during my recent hosted stay.
In a nod to modern hotel-casino design, guests do not have to enter the casino to get to the registration desk or access their rooms. Vertical panels behind the registration desk periodically flip to display three scenes, immediately placing Circa within the Vegas cityscape and hinting at the property's playful artistry.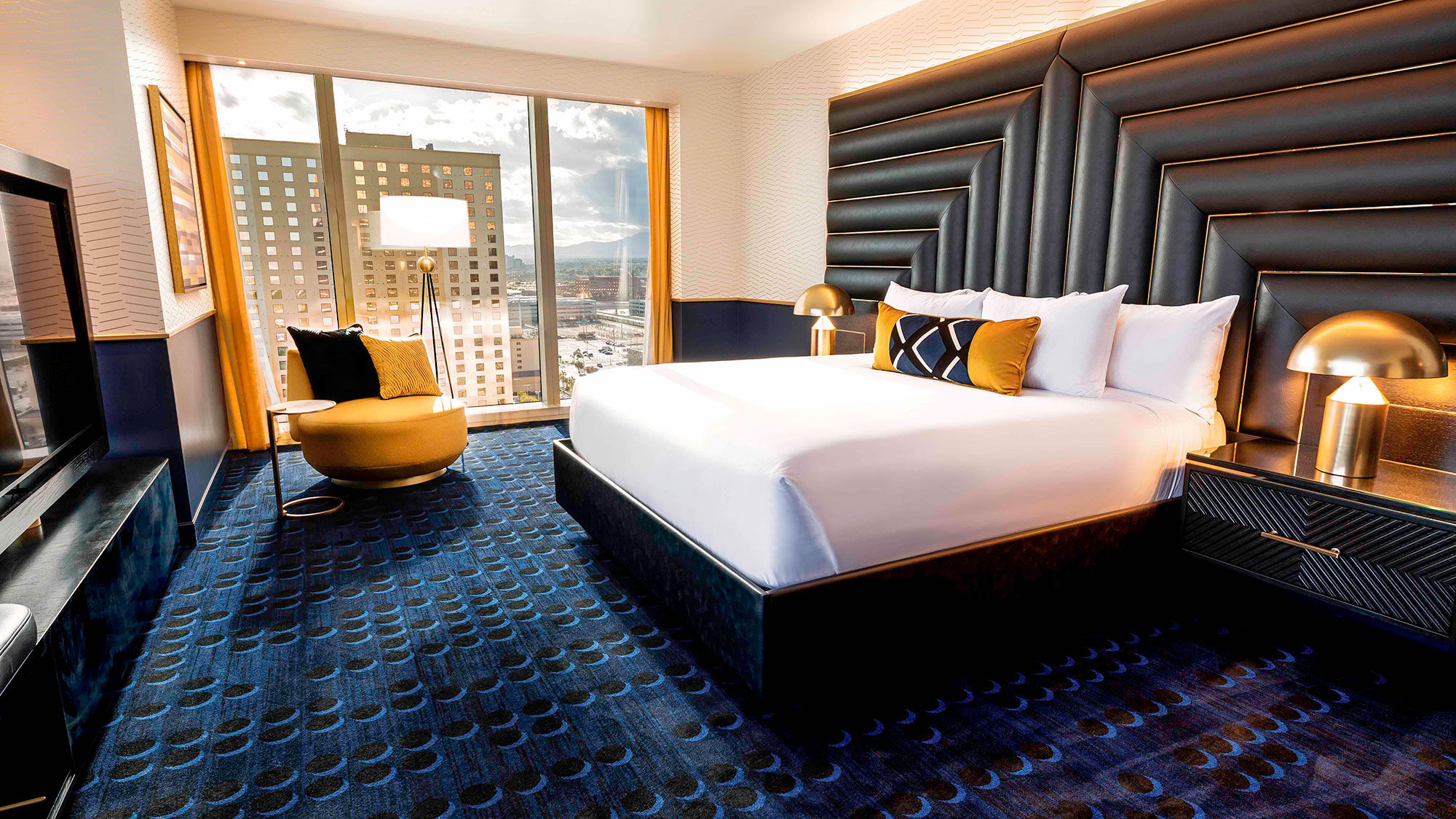 A room key card is required to access the main elevator bank to the 777-room tower. Guests are asked to select their floor on a touch screen in the lobby and wave their room key again to be directed to a specific elevator that whisks them nonstop to their floor. There are no floor buttons to push in the elevator, and my wife and I did not share an elevator ride with anyone else during our entire stay. The mundane task of using the elevator felt not only more secure but healthier.
As with the rest of the property, our king room was sparkling clean with unmistakably Vegas-themed art — city scenes, images of busy casino floors — amid the royal blue, brown, beige and gold hues. It included a minirefrigerator, a couch, a swivel chair and large bathroom with a dual vanity and a walk-in shower with a bench. There was no coffeemaker, but an in-room tablet makes it easy to order food, make reservations, adjust the room's lighting and even place phone calls.
• Related: Circa reveals plans for hosting meetings
Although mammoth Resorts World Las Vegas and the Fontainebleau (under construction) blocked key views of the south Strip, the rest of the southern Las Vegas Valley spread before us on the 50th floor.
We could hear the throbbing beats of the pool area below. Stadium Swim includes a 135-by-41-foot LED screen, six pools, two spas and DJ booth. Those seeking more serenity late into the evening will want to ask the front desk to be placed on an even higher floor or in a room not facing Stadium Swim.
One quibble I had is that as a hotel guest I had to walk through the casino to access Stadium Swim, which opens to guests one hour before the public can access it. Guests at Circa (and at sister properties The D and Golden Gate) are admitted free; others must pay a fee that varies depending on the day and whether or not there are scheduled events going on.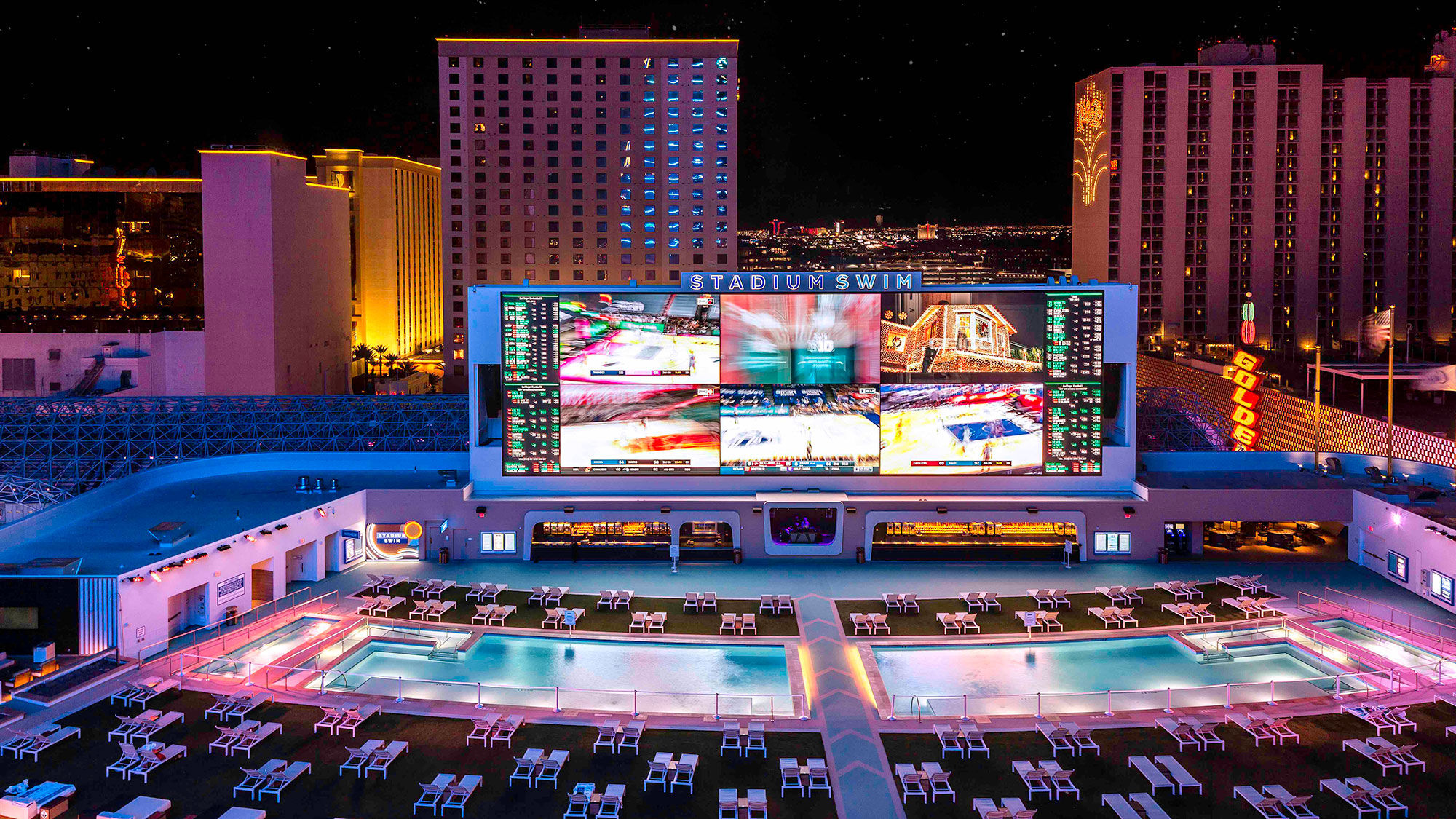 The bold neon of the 20-by-25-foot Vegas Vickie centerpiece, abundant TV screens, a variety of bars and the city's biggest sports book dominate the casino. Restaurants include Victory Burger & Wings Co., Project BBQ, the 24-hour Saginaw's Delicatessen, 8 East and the high-end Barry's Steakhouse.
For a memorable experience as the city lights up in the evening, the Legacy Club is an intimate bar with indoor and outdoor seating on the 60th floor. The dedicated elevator's doors open to portraits of the men who helped build Vegas, including Jackie Gaughan, Jay Sarno, Kirk Kerkorian, William Bennett and Steve Wynn. There's a $2 million display of gold bricks, but it's the view through the floor-to-ceiling windows that captures guests' attention.
In contrast to the rest of Circa, there are no TVs and loud music in the Legacy Club, just a gentle soundtrack to spur conversation over expertly prepared drinks. The 8,400-square-foot Legacy Club will host its first Gatsby Night from 8 to 11 p.m. Aug. 5, with live jazz music, a Champagne tower and dessert offerings. Tickets ($150 plus tax and fees for each person) include 1920s-era accessories.
That blend of quaint and modern epitomizes what Circa Resort & Casino sets out to do. Its name evocative of the history books, Circa embraces today's amenities while extolling the charms of the past.
Source: Read Full Article