As pandemic lockdowns eased this year, survey after survey showed travelers were eager to be with people again. Reconnecting with friends and family, celebrating special occasions and returning to normal activities, like dining out, were some of the simple pleasures missed the most.
When Turtle Bay Resort, the only full-service property on Oahu's North Shore, reopened on July 1, it was ready to capture that demand with an entirely new food-and-beverage program and complete revamp of its common spaces, including the porte-cochere, lobby and pools.
I recently had the opportunity to check out the changes, which are noticeable from the moment of arrival. The lobby is brighter and more open, enticing visitors with panoramic views of the coast and surrounding grounds. On the west side, employee offices and a front desk were removed to expose views of the pools and coastline.
The lobby also welcomes guests with new, large-scale works from local artists Nick Kuchar, who is known for his vintage-style surf art designs, and Abigail Romanchak, who focuses on Native Hawaiian printmaking. Turtle Bay sits on a narrow point that juts into the Pacific, and with the now open west side and glass-lined east side of the lobby, there are expansive views from the check-in desk of all that awaits arriving guests.
At the entrance to the lobby sits Surf House, a new retail shop with stylish aloha wear, bathing suits, surfing books and other items that will also serve as a space for presentations and talks. The Ocean Club is a new lounge with pool and ocean views that is reserved exclusively for Ocean Level guests, who also receive upgraded amenities and services, such as access to special cooking or mixology classes.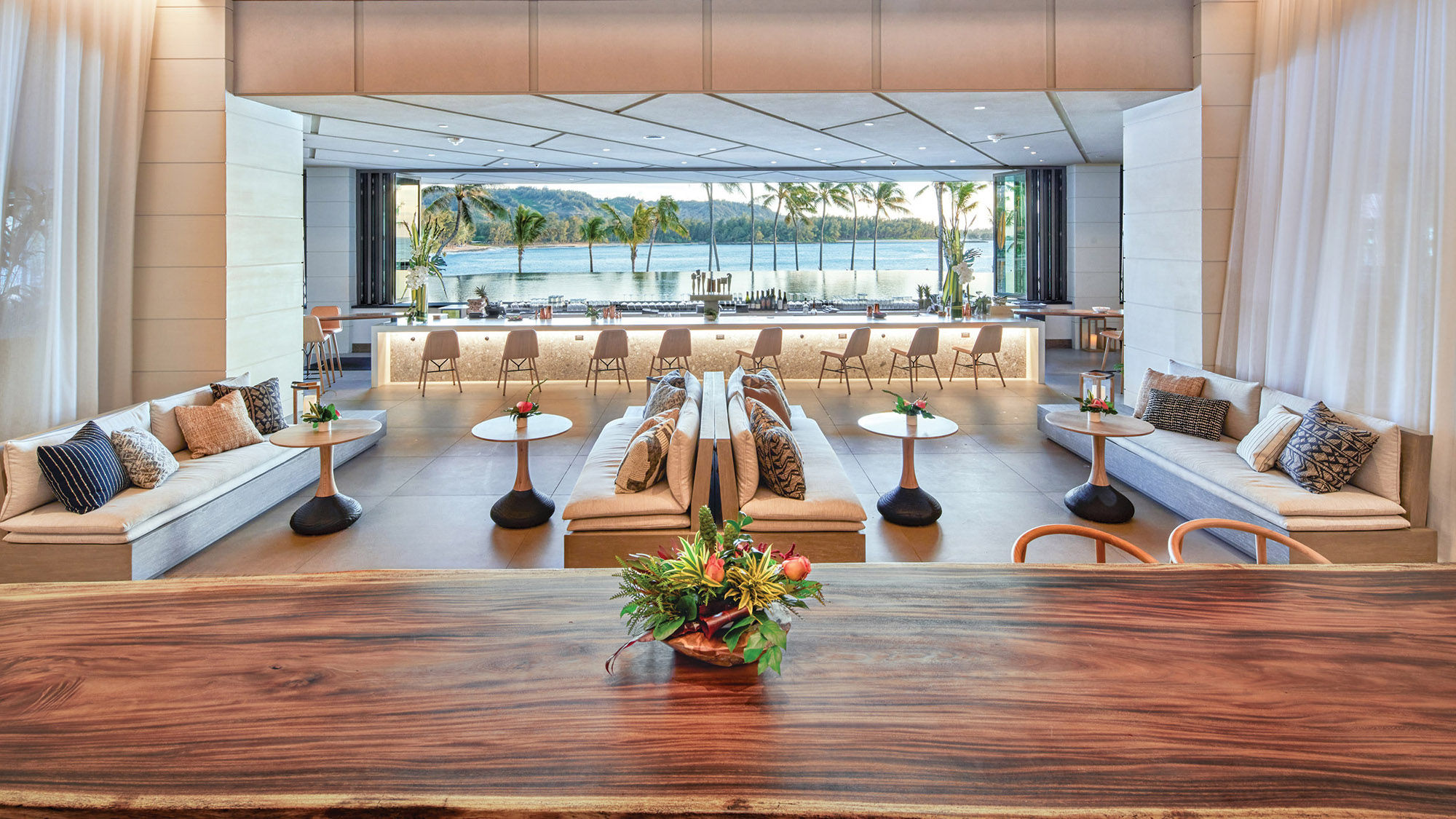 Off the Lip, a new 25-seat bar in the lobby with a sunken imprint and infinity-edge water feature blending into views of the pools and ocean, was also added. The bar has excellent sunset vistas and also has become a hub for evening cocktails and small bites, with live music nightly from 6:30 to 9:30 and food service running until 10 p.m.
The drink menu is creative and incorporates local fruits and produce, with housemade juices, kombucha and bitters. The food menu delivers easy-to-share plates, such as a charcuterie board, wild mushroom pizzetta and spicy tuna minitacos but could afford to swap out some of its more tried-and-true offerings, such as truffle fries, flatbreads and chicken wings, with more innovative dishes that better reflect the Islands.
The new lobby cafe, Hoolana, is well situated on the east side of the building, where guests can grab their cold brew or latte made from Hawaii-grown beans and enjoy the sunrise over Kuilima Cove from comfy chairs. It is open from 5:30 a.m. to 4 p.m. and is the grab-and-go option for guests headed off to surfing lessons or a hike, with pastries, bagels, grilled sandwiches, sweet treats, oatmeal, yogurt parfaits and other packaged items.
Turtle Bay's reimagined approach to the food-and-beverage program is centered around its 400-acre Kuilima Farm and a general effort to source more ingredients and products from the Islands. The Kuilima Farm Stand, just down the road from the resort's entrance, has a handful of stalls selling banana bread, whole and sliced tropical fruits and other goodies, such as Hawaii-made chocolate and honey.
The new signature restaurant, Alaia, is adjusting its menu seasonally, building around offerings from the farm in addition to other locally sourced fish, meat and produce. The redesigned space is open and airy, with wood beams spanning the ceiling, and features a bar, indoor dining room and terrace with ocean views.
To captain the new signature restaurant, the resort brought in Gilles Epie, who led his first Michelin-starred restaurant at age 22 and was named one of the Best New Chefs in the U.S. by Food & Wine Magazine in 1996. Prior to coming over to Turtle Bay, he served as culinary director of the Montage Beverly Hills. 
Epie's signature dishes at Alaia include a grilled giant sweet opah topped with housemade lemon garlic butter; Japanese-style swordfish steaks marinated in sake and soy sauce; and pan-seared Colorado lamb chops with a thyme-jus drizzle. 
The menu wisely makes use of plenty of locally sourced seafood, including a hearty caramelized octopus appetizer with harissa aioli, baby potatoes and smoked paprika as well as lobster sustainably farmed off the coast of Hawaii Island served with onions, spinach, coconut milk, wasabi and tobiko (flying fish roe). There's also a selection of "farm sides," including candied sweet potatoes that were difficult to stop eating.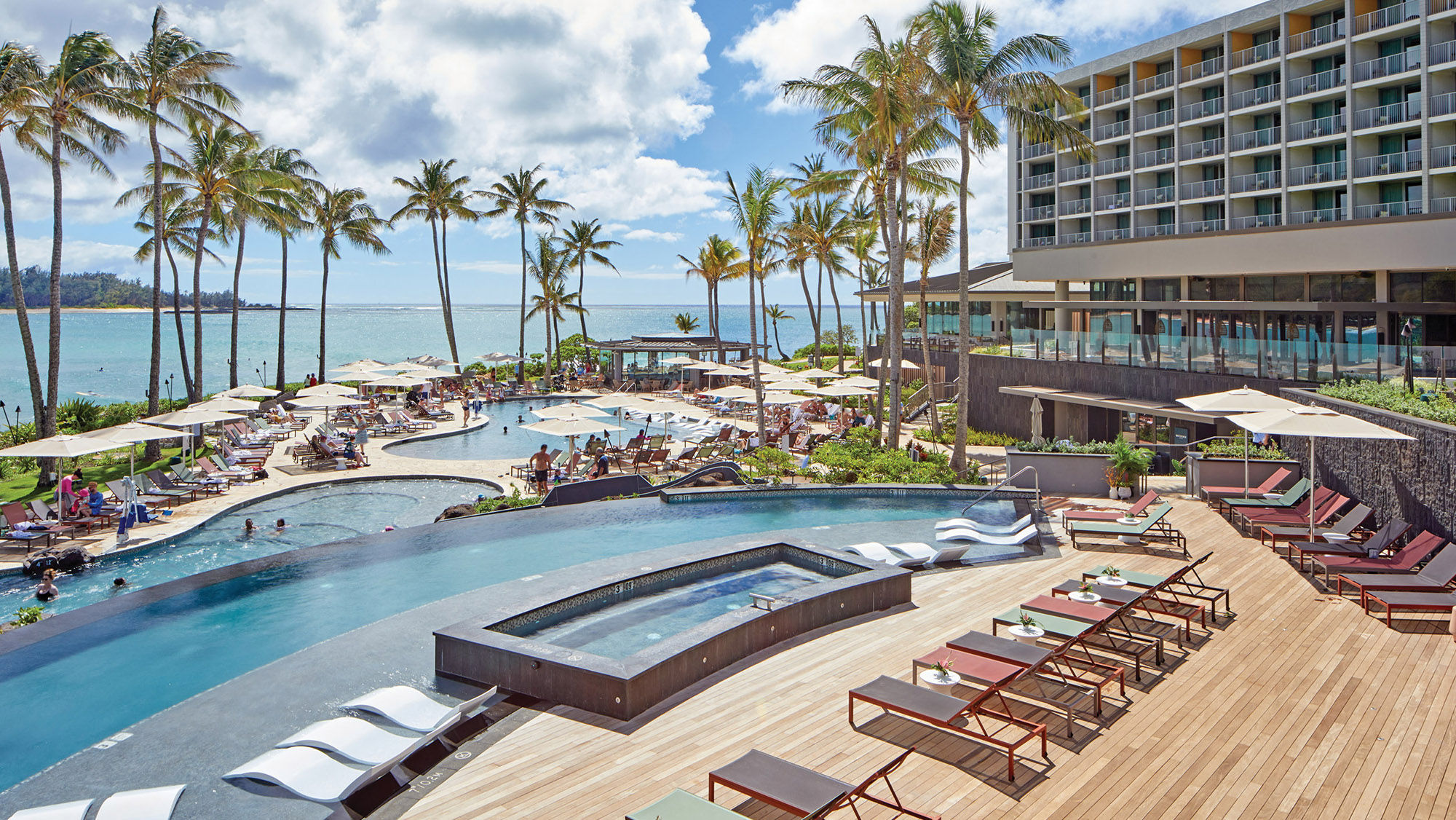 The terraced pool deck features a new infinity-edge, adults-only pool with a hot tub and ample lounging space.
The all-ages pool has been redesigned, with new cabanas and a revamped pool bar and entertainment area. 
The pool bar, Sunset, has folding glass doors on all sides that can be completely opened to offer superb views of the surf break right off the Turtle Bay coastline. The menu hits all the notes guests expect from pool-bar menus, with several items for both adult and child palates, including burgers, fish and chips, flatbreads, tuna poke and fried calamari. 
The absence of fresh juices, smoothies or a wider selection of nonalcoholic drinks in general on the menu seems like a missed opportunity considering it is the main lunch option at the resort and the resort's efforts to tout its farm and its extensive wellness and fitness activities. 
Source: Read Full Article