Travel agencies are bustling with business — some even to the point of being overwhelmed — as clients new and old alike return to the roads and skies.
"We're more than cautiously optimistic," said Angie Licea, president of Internova Travel Group's luxury division, Global Travel Collection (GTC). "The question is, does it sustain?"
GTC crafted budgets last year in the fall, when the division was still "cautiously optimistic," Licea said. At the start of the year, GTC assumed it would be doing around 55% to 60% of 2019 business. Now, the number is about 15 to 20 points above that estimate.
"We're, frankly, blowing the projections out of the water," Licea said.
And there does seem to be a sense of enthusiasm among agents right now. In a Travel Weekly reader poll conducted in April with 367 participants, 76% of respondents said they were optimistic about their agency's future (18% were unsure, and just 6% were not optimistic).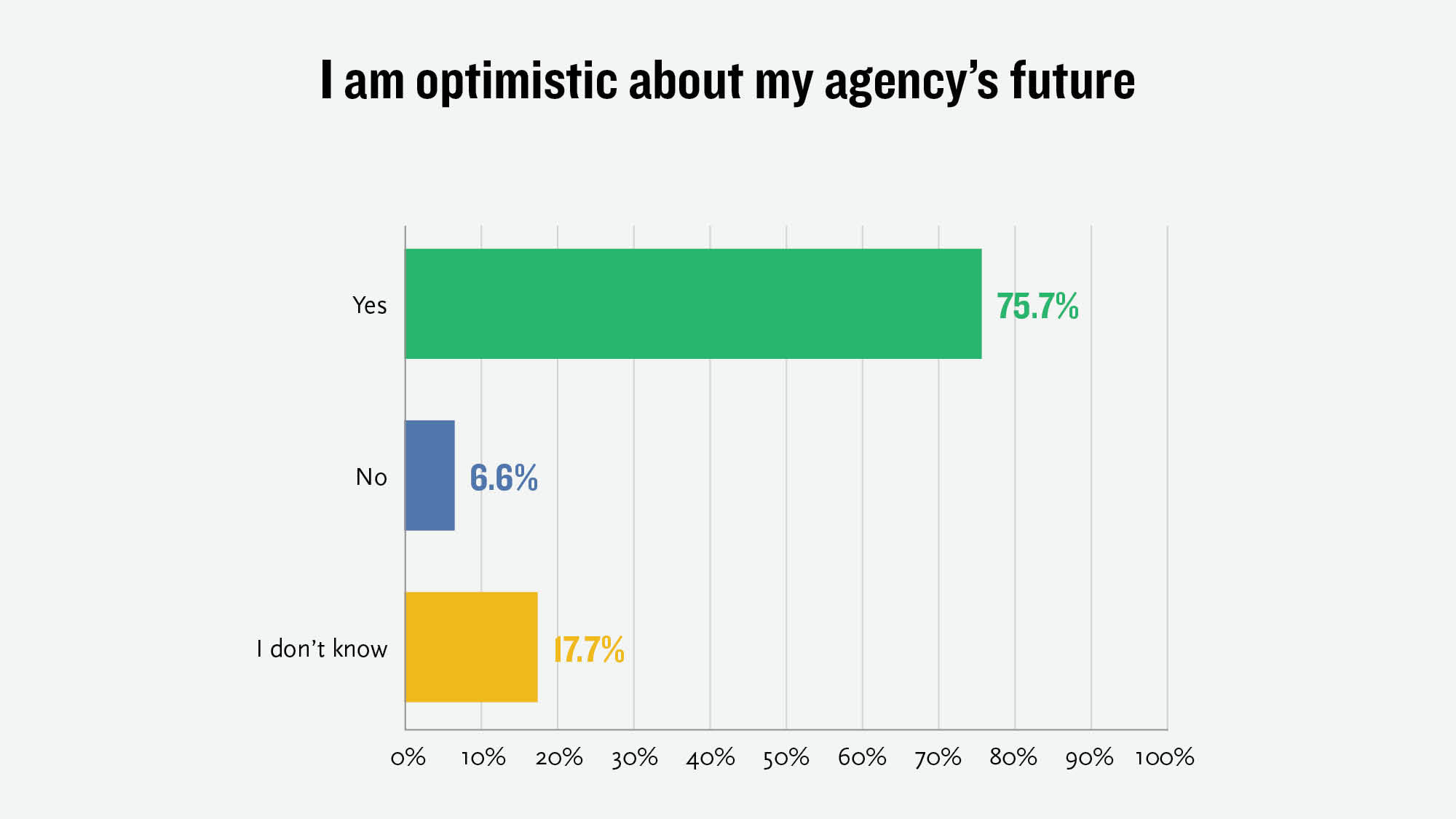 Asked to provide reasons for their optimism, many noted that some clients were still hesitant about traveling, but general confidence levels seemed to be growing, as has demand for advisors.
As Justin Smith of The Evolved Traveler in Beverly Hills, Calif., wrote, in response to a survey question about why respondents were optimistic, or not: "There is no reason not to be optimistic about the future of travel; travel will come back. There is clearly pent-up demand, but there is also a great deal of uncertainty on the part of the consumer at the moment.
"Travel is not going to just snap back to what it was pre-pandemic, but maybe that's a good thing," he added. "We're all learning new things and new ways of doing things as we navigate this new territory, which is a great opportunity to stay challenged and fresh. Clients and advisors alike will benefit from that."
Around 31% of respondents reported business at or "far above" 2019 levels. Just over half, around 52%, said bookings were coming in but business hasn't yet recovered to 2019 levels. Seventeen percent reported bookings "at a rate far below" 2019 levels.
Related: For the first time, leisure-travel air sales top pre-pandemic levels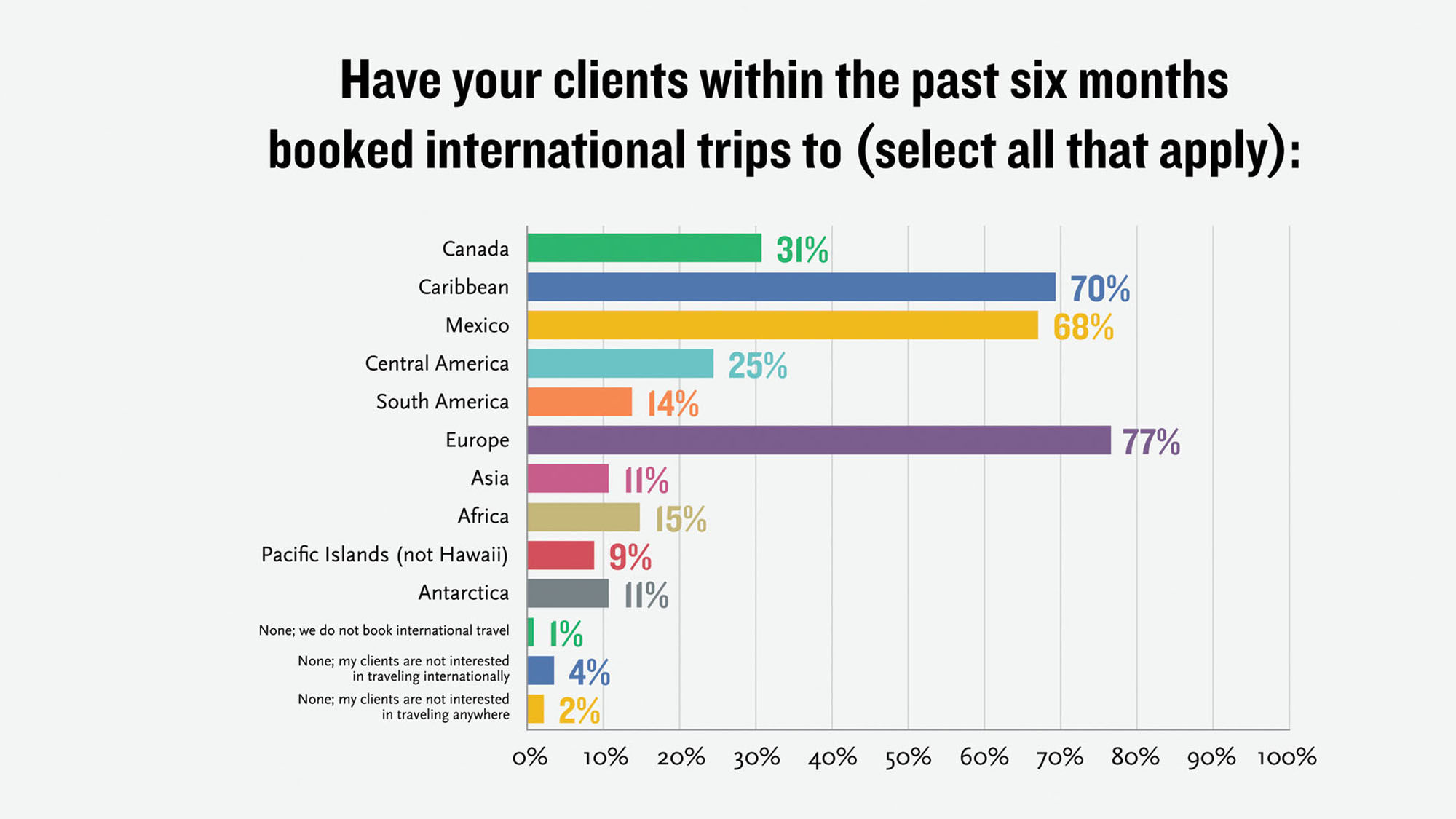 Europe's popularity
Likely thanks to borders reopening, 51% said they are booking more international travel than domestic. Respondents reported clients were most interested in international trips, with Europe just edging out the Caribbean and Mexico as favorites.
Virtuoso recently released its list of the top 10 summer destinations based on member hotel bookings for June, July and August. While the United States tops its list, two European destinations, Italy and France, follow. Rounding out the list, in order, were Canada, Greece, the U.K., Spain, Mexico, Ireland and Switzerland.
At GTC, Licea said, bookings to Europe are increasing. While Mexico rose in popularity for GTC clients in the past two years because it was one of the first countries to reopen, it has fallen a bit in 2022 to European destinations like Italy and France.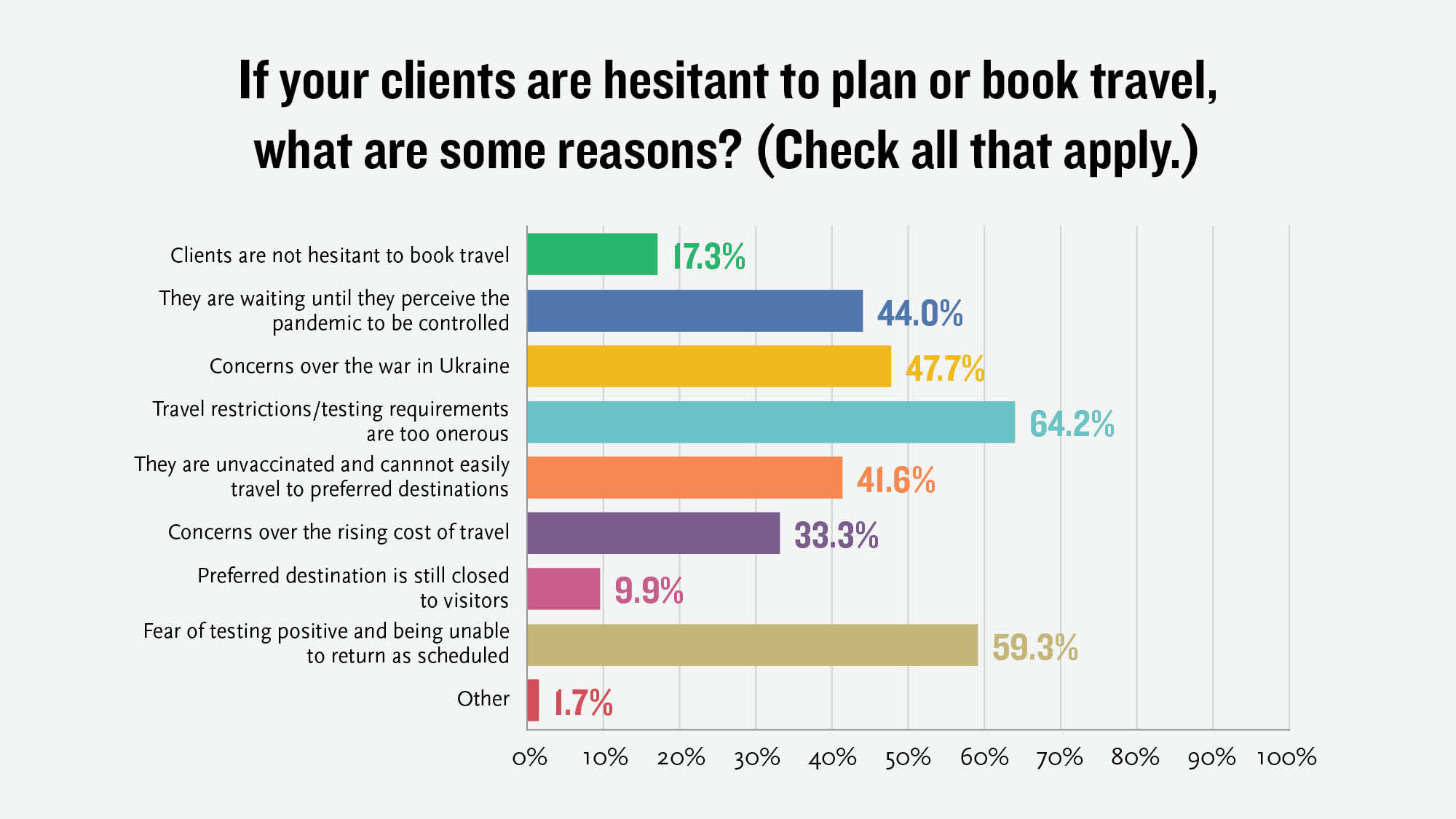 What else is selling?
Big, bucket-list trips remain popular, as is private travel. While many thought the latter was a pandemic-specific trend, Licea believes travelers have gotten a taste of traveling private air and don't want to go back to flying commercial.
There have even been some GTC advisors who reported that March was the best month in the history of their business, Licea said. While that's not a widespread phenomenon, "It feels pretty darn good to be having those conversations."
At KHM Travel Group, nine out of 10 agents are getting more requests than usual, and that includes pre-pandemic, according to vice president of agent engagement Bill Coyle. In fact, some are overwhelmed by the amount of business they have.
Bookings are to destinations "all over the board," Coyle said, with all-inclusive properties, ocean cruises, Hawaii and Alaska particular standouts. 
Bookings for Europe and river cruising have been a little more tepid, though.
"The interest is there," Coyle said. "The booking element is still in quote mode, not hit-that-button mode yet."
Related: After two years of pandemic isolation, multigenerational family travel is booming
Ocean cruising has been a particular highlight for InteleTravel. The host agency reported a 50% increase in cruise bookings in March compared with the previous month.
Drew Daly, senior vice president and general manager of Dream Vacations/CruiseOne, described agents as "good busy," compared to the busy of the cancel-and-rebooking shuffle that defined 2020 and 2021.
In recent weeks, Daly said, ocean cruising has grown by double-digits compared with 2019, "a good sign." Land bookings continue to increase, with Mexico, the Caribbean and Alaska topping the list of destinations.
While he also said Europe bookings have been a little soft, the upcoming cruise season in the Mediterranean is causing bookings to pick up.
"The leisure travel business is back," Daly said. "I do think that some of us may have thought that it would have been a little bit sooner, and then [that the events in] Ukraine would have dampened that a little, but no. I definitely think that consumers, they're traveling."
Source: Read Full Article