During a recent cruise on MSC's newest ship, the MSC Seashore, I managed to never step into a main dining room or the ship's buffet for the entire five-day trip.
This was not intentional; I was not trying to avoid those main eating areas. It had more to do with MSC's newest ship in the U.S. offering so many specialty eating options and with enjoying the dining exclusive to the MSC Yacht Club ship-within-a-ship area.
The Seashore, the Seaside Evo-class ship that debuted last summer and launched sailings from Miami in November, has 11 places to eat as well as 18 bars and lounges. That's a lot to try to cover over five days.
Most of the ship's specialty restaurants, which carry an additional dining fee, are located in a central area on Deck 8 called Chef's Court.
As guests of the Yacht Club, we had access to the enclave's restaurant and buffet, where we quickly felt at home. The Yacht Club's indoor and outdoor lounging areas also became our primary hangout places, and most of the time we spent in the main part of the ship was to use the waterslides, play in the arcade and try out the various restaurants and bars. It felt like staying in a small, upscale hotel and being able to venture out to have fun. 
Related: Zero-proof cocktails are in high demand in hotels and on cruise ships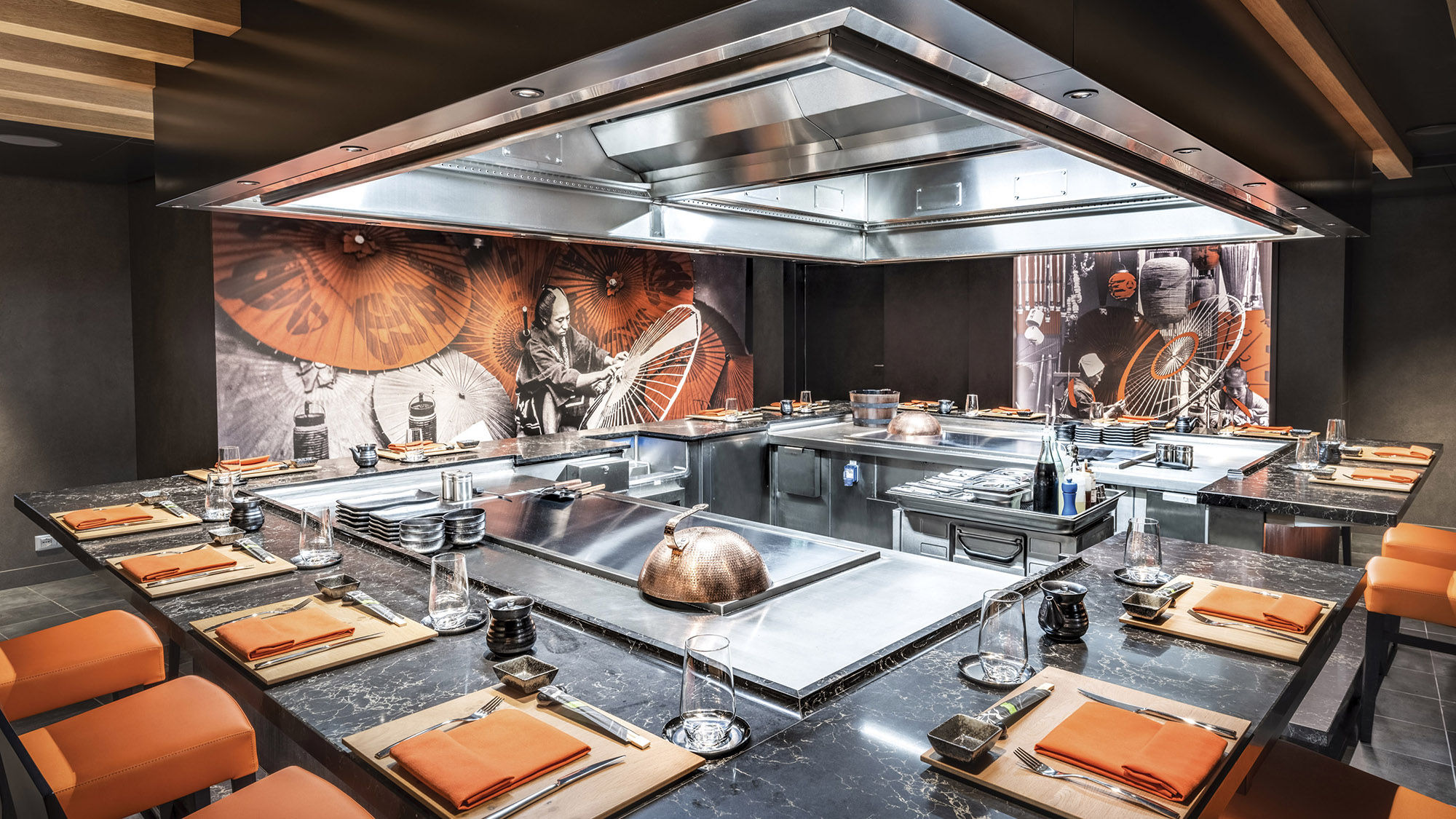 With so many options, it wasn't easy to choose. But with an 8-year-old in tow, we picked two restaurants based on their entertainment value: Kaito Sushi Bar, with color-coded, conveyor belt sushi, and Kaito Teppanyaki, which serves up a traditional teppanyaki menu along with the requisite chef performances in one of the largest teppanyaki venues at sea.
Had it been just my husband and me, we would have definitely wanted to try the upscale Ocean Cay seafood restaurant or the Butcher's Cut, if only to sit in the alfresco dining area, a new feature of the line's signature steakhouse that debuted on MSC's previous two ships.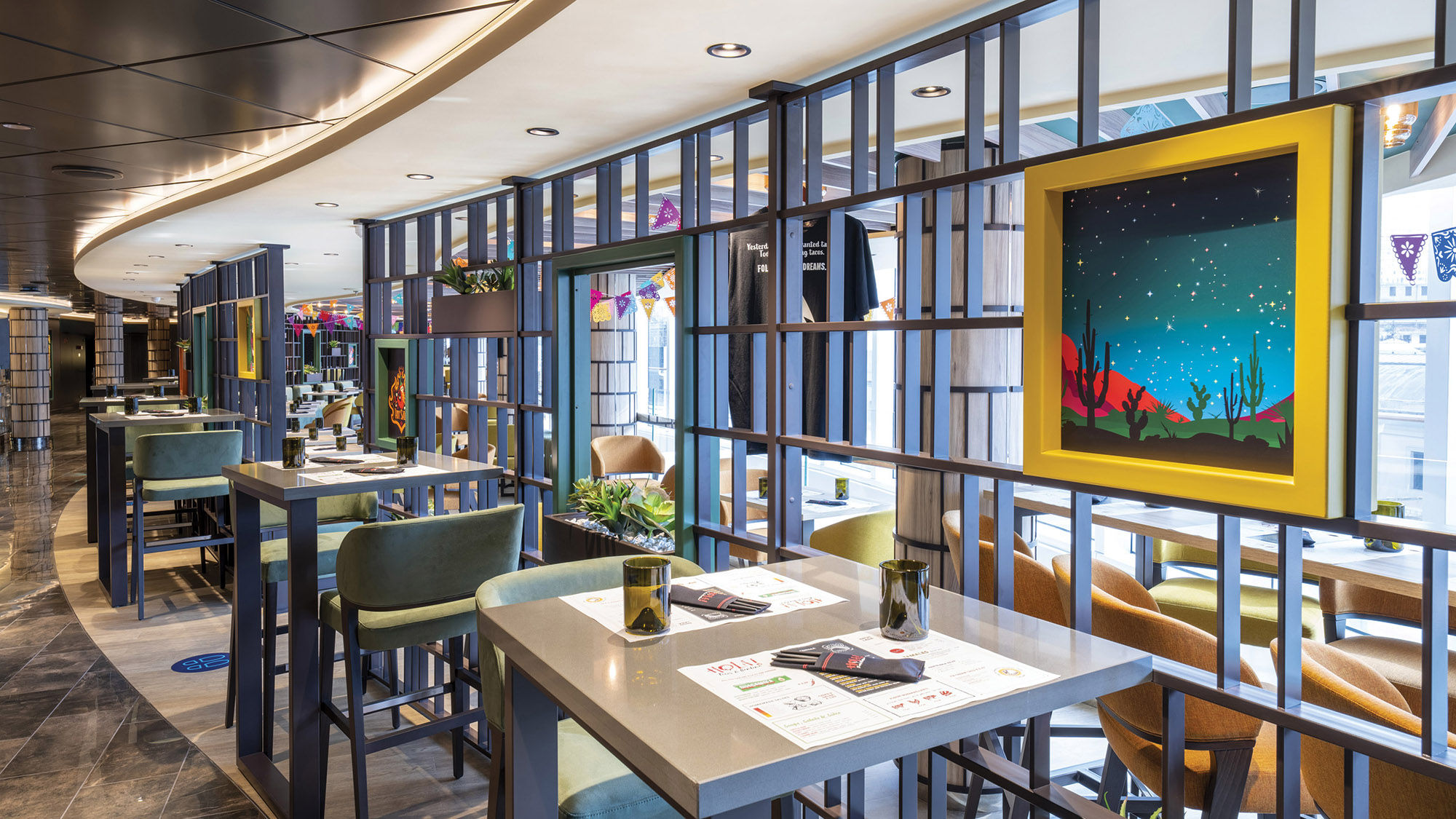 Our third choice was Hola! Tacos and Cantina, which is also new to MSC and is located on Deck 8 right off the central atrium. MSC fans will note it takes the place of the French bistro on the other Seaside-class vessels.
The menu at Hola! is limited, as it is supposed to resemble a casual, Mexican street food experience. The fun comes in choosing different ways to style your tacos — white, yellow or blue corn tortilla, 10 varieties of fillings. There's even an ice cream taco for dessert. Having the taco served on a paper-lined silver tray adds to the street food vibe. 
There are also three kinds of guacamole, made tableside, and nine types of salsa to choose from. A fun drink menu offers six takes on margaritas and a variety of tequilas and mezcals to choose from. For kids, aguas frescas include tamarind and horchata milk. 
Related: Focus on Culinary Travel: Sea food sampler
Kaito Teppanyaki has three menus, with prices topping out at $59 per person and items including scallops, lobster and wagyu beef. A kids menu is $12 and includes chicken and vegetables. A nice addition is that everyone gets sushi and sashimi to start. 
Groups and families were definitely having fun. The chefs follow a script, and we heard quite a bit of their shtick from the surrounding tables before they repeated it at ours, but that didn't seem to bother any of the kids, who seemed to love the chef's tricks. MSC has clearly found that Kaito is a fan favorite: With eight grills, it is the largest teppanyaki restaurant in the MSC fleet.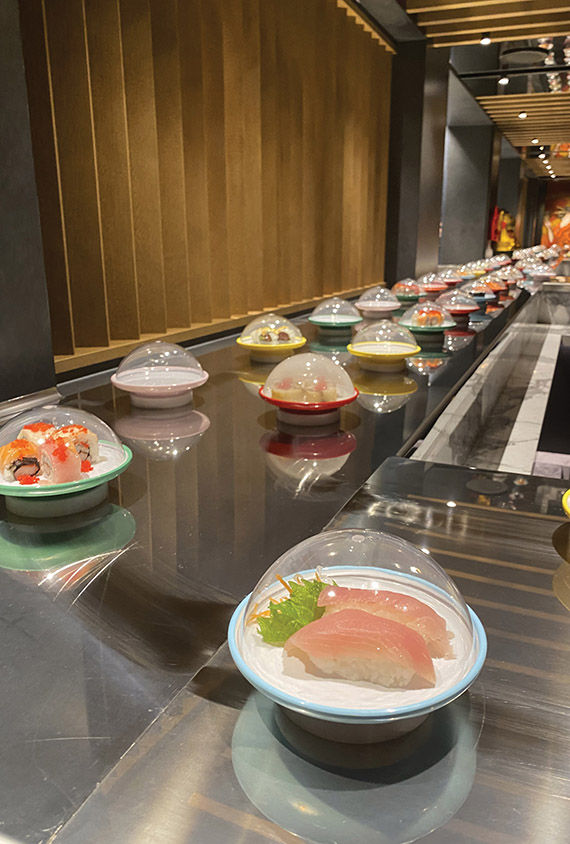 At the Kaito Sushi Bar, watching the conveyor belt never got old. My family and the one sitting on the other side of the belt made it a sport for our kids to find certain items. Besides the fun, the sushi was fresh and the menu had quite a few nonsushi options to choose from, including teriyaki, noodle dishes and lots of vegetarian items. The $34-per-person dining experience offered far more food than we could eat.
Back at the Yacht Club, which offers more traditional menus, we loved sitting alfresco in the morning at the poolside buffet with fresh-squeezed juices and a limited but high-quality variety of made-to-order breakfast items. It also became our go-to lunch place, with the staff quickly remembering our preferences.
The same was true at the Yacht Club restaurant, where meals on our first and last nights were at different tables but where the waiters knew us well.
It was the perfect mix of adventurous big-ship dining with the intimacy of what became our local eateries. 
Source: Read Full Article