You can't keep a good city down. Great cities rise like the phoenix, no matter the flames. Less than 10 years after the 1906 earthquake and fire that reduced San Francisco to rubble and ash, "the City" reopened its golden gate for a world's fair in 1915. Originally designed to celebrate the completion of the Panama Canal, the Panama-Pacific International Exposition quickly became synonymous with San Francisco's rebirth.
That same year, in keeping with the citywide renaissance, Frederick C. Clift opened the Clift Hotel as San Francisco's first "fire and earthquake proof" hotel. More than a century later, the Clift Royal Sonesta Hotel still stands as a beacon of progress and a benchmark of luxury, notable for a soaring two-story lobby that leads into the Redwood Room: an art deco masterpiece paneled in redwood from a single tree.
In an ironic twist, the Clift's recent multimillion-dollar renovation of its 372 guestrooms, junior suites and suites coincided with the Covid pandemic. It provided an opportunity to fine-tune the upgrades, including the Spanish Suite, the original residence of Frederick Clift. With sweeping citywide vistas and a 125-guest capacity, the penthouse has been updated and refreshed in soothing neutral tones that provide a sophisticated backdrop for celebratory events. 
For years, my godfather hosted dinners at the fussy French restaurant off the Redwood Room, which was later transformed into Asia de Cuba. In honor of the hotel's founder, the Clift's latest dining option is named Fredericks. A cafe and eatery situated off the lobby, Fredericks offers modern comfort food that showcases San Francisco's culinary bounty, while the lobby's Living Room segues smoothly from morning coffee to cocktails.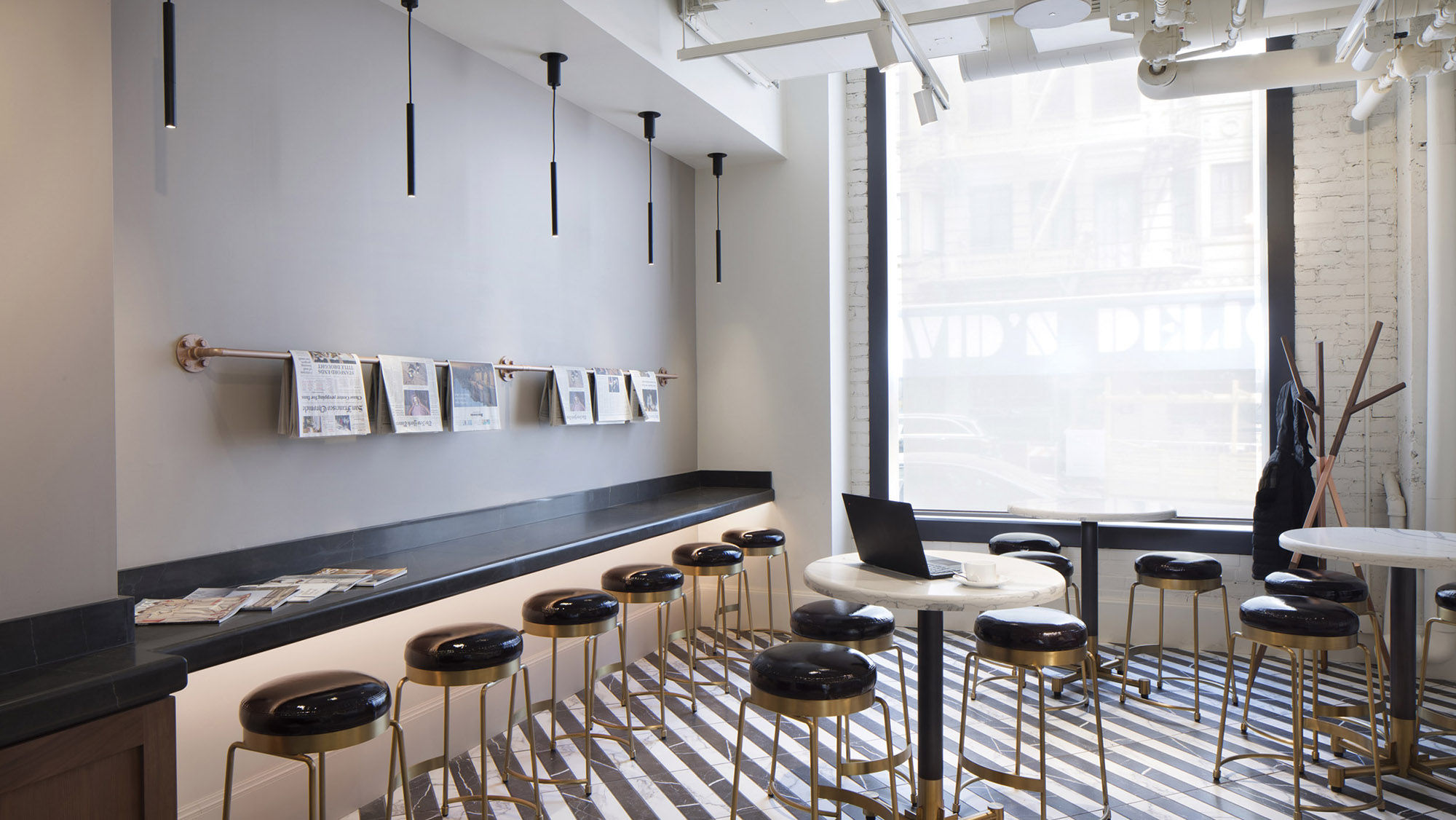 A prime location
Located just off Union Square, the Clift is within easy walking distance of John's Grill, the favored watering hole of gumshoes and novelists like Dashiell Hammett. Opened in 1908, John's has been serving seafood and steaks to the city's shakers and movers for as long as the Clift has provided them beds. In a nod to Sam Spade, the warren of wood-paneled dining rooms at John's houses a 150-pound Maltese Falcon statue alongside numerous vintage photographs and Hammett memorabilia.
In keeping with the Clift's founding spirit of innovation, the renovated guestrooms at the hotel offer Staycast TV streaming service, Keurig coffeemakers, rainfall showerheads and signature Sonesta bedding. The sumptuous suites are immaculate — and larger than many city apartments — and make beautiful base camps for a staycation or a getaway weekend.
To its credit, San Francisco has kept Covid under control throughout the epidemic. The city's Covid-19 Prevention & Enhanced Cleaning Guidelines ensures that hospitality businesses adhere to approved cleaning and safety protocols, and visitors to San Francisco are invited to honor and respect the Safe Travel Pledge.
In response to the pandemic, chef Mark Dommen of One Market Restaurant opened Mark 'n Mike's, specializing in Jewish deli comfort food, a concept so popular at lunch that it's now available on Saturdays at the Ferry Plaza Farmers Market. That said, there's no better seat in the house than the Chef's Counter at One Market, where Dommen and his polished staff elevate California comfort food into an ethereal meal that finishes with a definitive butterscotch pudding.
More San Francisco hotel news
Rosewood Hotel is coming to San Francisco
Park Central San Francisco rebranding as Hyatt Regency
Auberge Resorts developing Hearst Hotel in San Francisco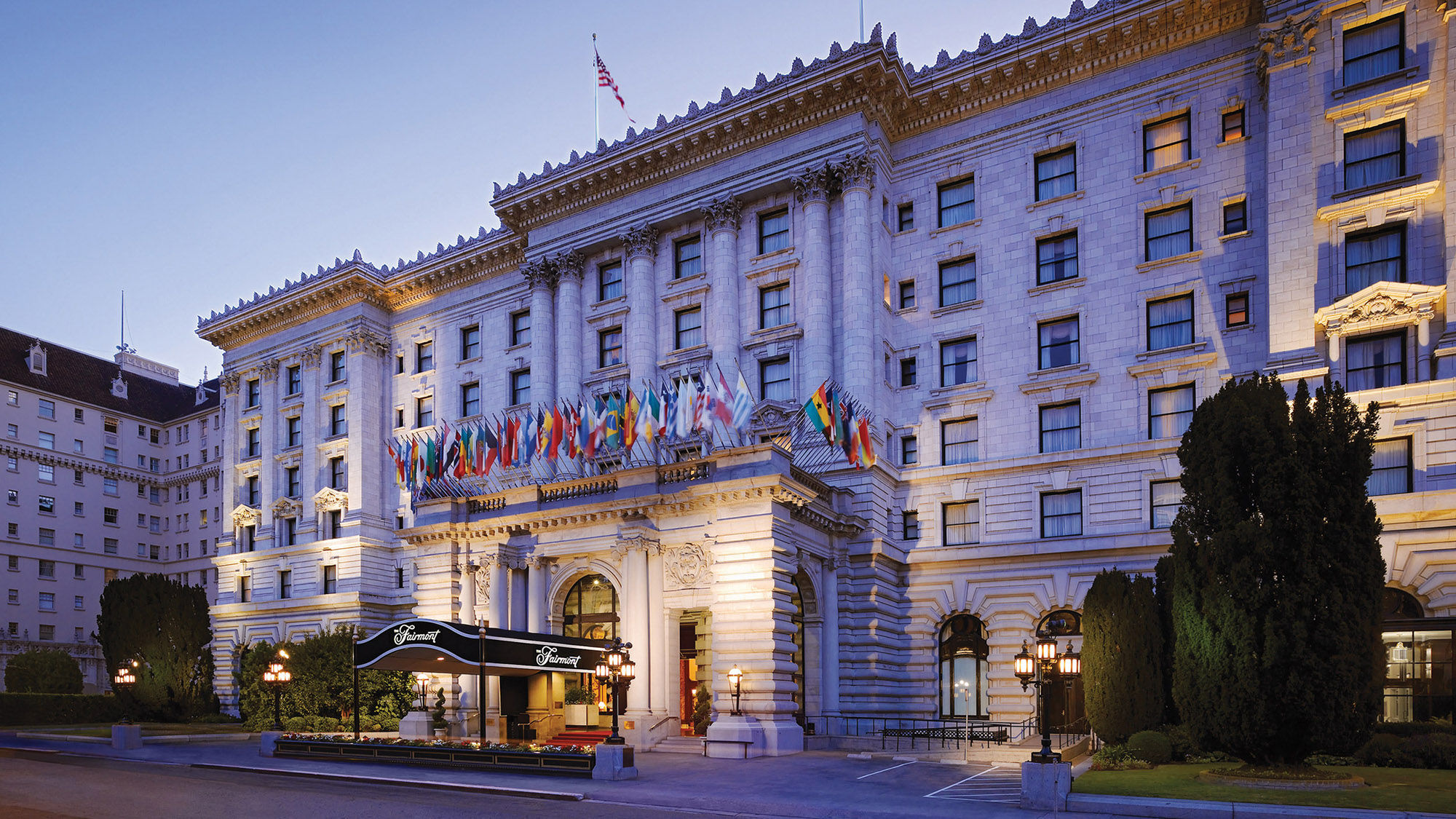 King of the hill
Atop Nob Hill, so named for the Big Four "nabobs" who built palatial mansions at the peak of California Street, the Fairmont San Francisco has maintained pride of place since the 1906 earthquake. Nearly completed when the quake hit, the majestic hotel opened in 1907 and has hosted numerous U.S. presidents and heads of state, although it might be best known for its long association with Tony Bennett, who debuted his signature tune, "I Left My Heart in San Francisco," in the hotel's Venetian Room in 1961.
Befitting the crown jewel of the Fairmont brand, the Fairmont San Francisco is listed on the National Register of Historic Places, and guests who enter from the hotel's porte-cochere into the breathtaking beaux arts lobby might find their jaws on the white marble floors. The lobby's massive columns and grand staircases evoke the grandeur of Gilded Age architecture, as does the hotel's ornately domed restaurant and lounge known as Laurel Court. With its pastoral wall murals and Ionic marble columns, breakfast at Laurel Court feels like dining at Versailles.
Equally alluring is the temptation to dine alfresco in one of the Fairmont's fabled Balcony Suites, each of which feature an elegant parlor, spacious bedroom, marble bathroom and two pairs of French doors that open onto a filigreed terrace large enough for candlelit dinner parties. With panoramic views overlooking the hotel's gardens and apiary and the city skyline beyond, it's difficult to leave these spacious suites, especially when the fog rolls in and blankets the city.
Guests at the Fairmont San Francisco would be remiss not to spend an evening at Tonga. Since its opening in 1945, the hotel's iconic Tiki bar has become an unofficial San Francisco landmark as beloved as its cable cars. With an island band on a thatch-covered barge in the hotel's former swimming pool and a "rainstorm" every 20 minutes, the tropical atmosphere quickly becomes irresistible, even for Tiki bar cynics — and it's best to follow the gung-ho staff and join in the fun.
For those post-Tonga mornings, consider a stroll down Nob Hill to Yerba Buena Gardens, where Bluestem Restaurant & Market serves restorative California cuisine alongside a curated market that features some of the best products from around the Bay Area. 
Known for their spirited cocktails, Bluestem's founders, Adam and Stacy, are equally loved for their Honolulu Hangover Cake, the cure-all for all morning-after ills.
People often complain that San Francisco has changed, and yet, the city that first welcomed me four decades ago is still there. Now that we have renewed appreciation for the simple pleasures, everything old is new again. What you seek in San Francisco is what you'll find. 
Source: Read Full Article