A new ship has joined the Avalon Waterways fleet, and the line is certain that guests are going to enjoy the "View."  
The Avalon View, part of the company's lineup of Suite Ships, embarked on its inaugural sailing April 10 along the Danube River from Vienna to Bratislava, Slovakia, for its official christening ceremony.
Aptly, the ship was christened by a former host of the long-running hit TV show "The View," Meredith Vieira, a longtime broadcast journalist who served as godmother.
The View shares a lot in common with its sister Suite Ships in terms of infrastructure. But it's worth noting that the most significant difference on the View is that it's the first of the class whose balconies have glass panels rather than the stainless steel railings — offering unobstructed views.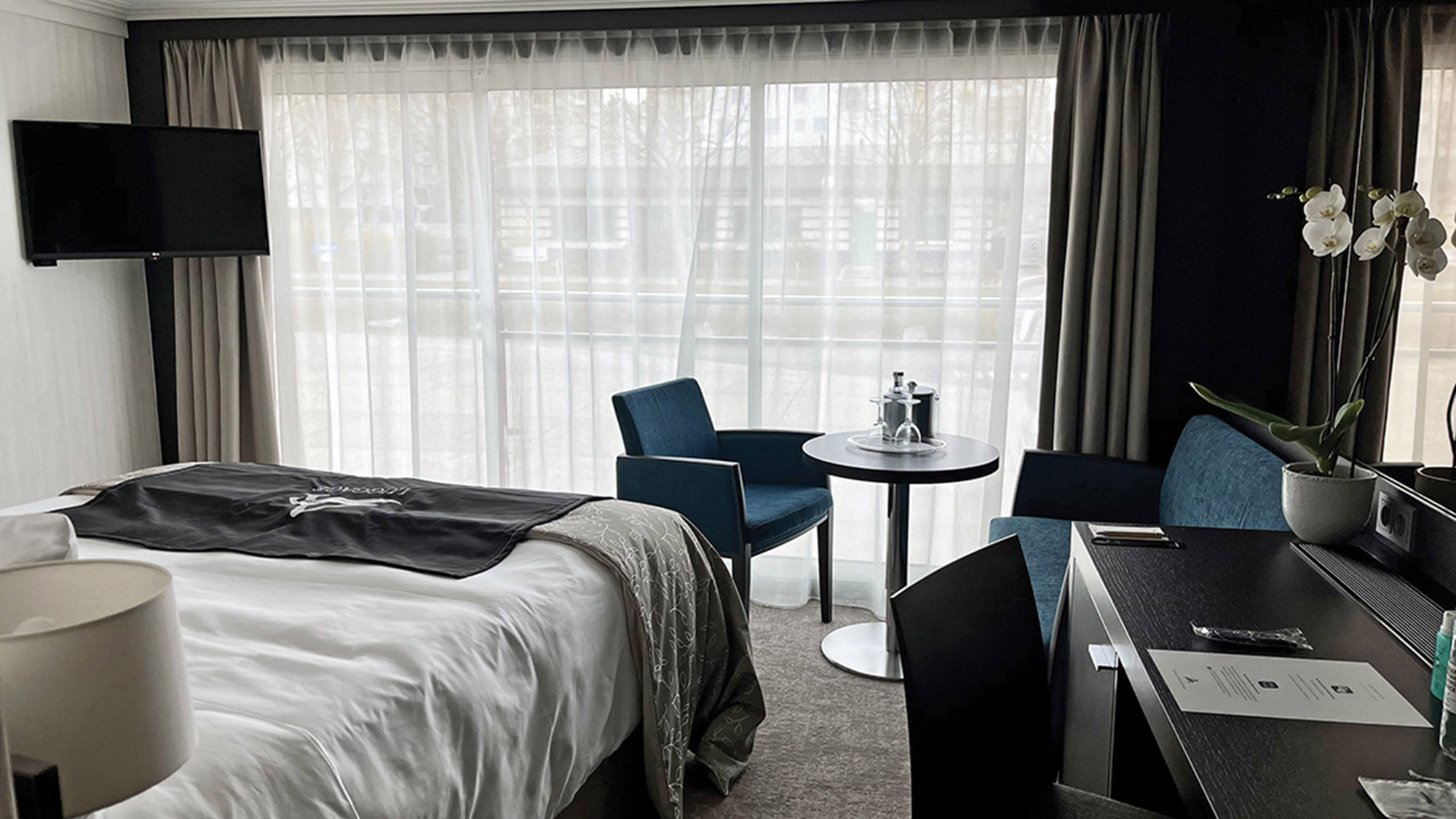 Even though many of Avalon Waterways' Suite Ships are designed identically, there are different choices made when it comes to interior design and decor for each ship. The View offers more of a classic approach to Avalon's interior design scheme, but its personality shines with its decor, inspired by Dutch interior designer Liane van Leeuwen. 
There's a mix of light and dark woods, accented by rich taupe, brown and red touches in public spaces and of blue throughout the suites and deluxe staterooms.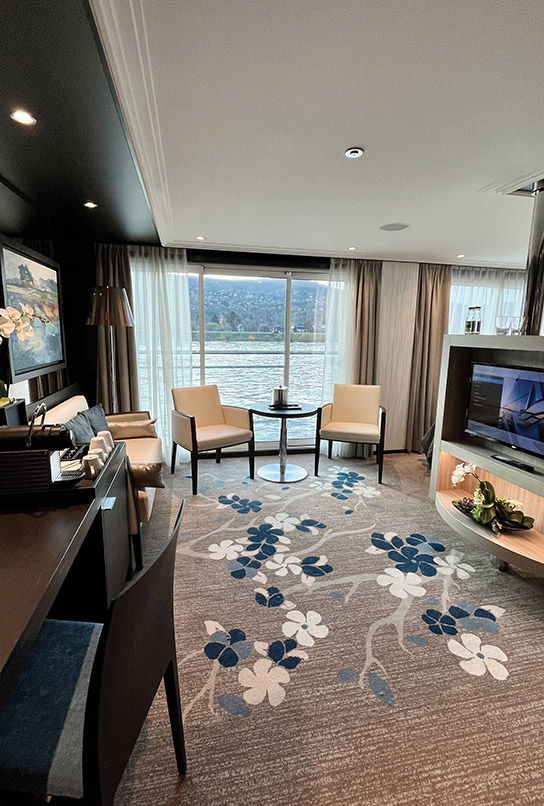 Original art in common areas is by Dutch artist Eelco Maan, and cabin paintings were created by another Dutch artist, Sofie Fisher.
The View is Avalon Waterways' 14th Suite Ship. There are 86 cabins onboard, and the ship can host a maximum of 166 guests.  
As with all of Avalon's Suite Ships, the View features the staple Panorama Suites, which offer angled room configurations that allow for more space and, of course, balconies that provide indoor/outdoor seating without sacrificing room space.
Panorama Suites are about 200 square feet, the average size of other Panorama cabins among the Suite Ships, and feature floor-to-ceiling windows that open 11 feet wide.
Royal Suites are 300 square feet and feature a living room area with an extra closet, a coffee machine and an extra panorama window. Deluxe Staterooms are 172 square feet with spacious closets.
The sailings
The Avalon View will offer a number of Active & Discovery cruises throughout its 2022 season. The themed itineraries give guests the chance to explore destinations in an immersive, in-depth way that goes beyond the company's standard excursion offerings.
"We invite guests to dive into new experiences and exploration with Active & Discovery itineraries and our Avalon Choice program, available on every Avalon cruise," said Pam Hoffee, Avalon's newly appointed president, who was aboard the View during its inaugural sailing.
Passengers on Active & Discovery cruises will have up to 28 included excursion options over the course of a sailing, more than on most other Avalon sailings. These range from classic sightseeing tours to immersive discovery options and active adventures for a varying array of fitness levels. Active & Discovery sailings also feature more time in port than other Avalon offerings.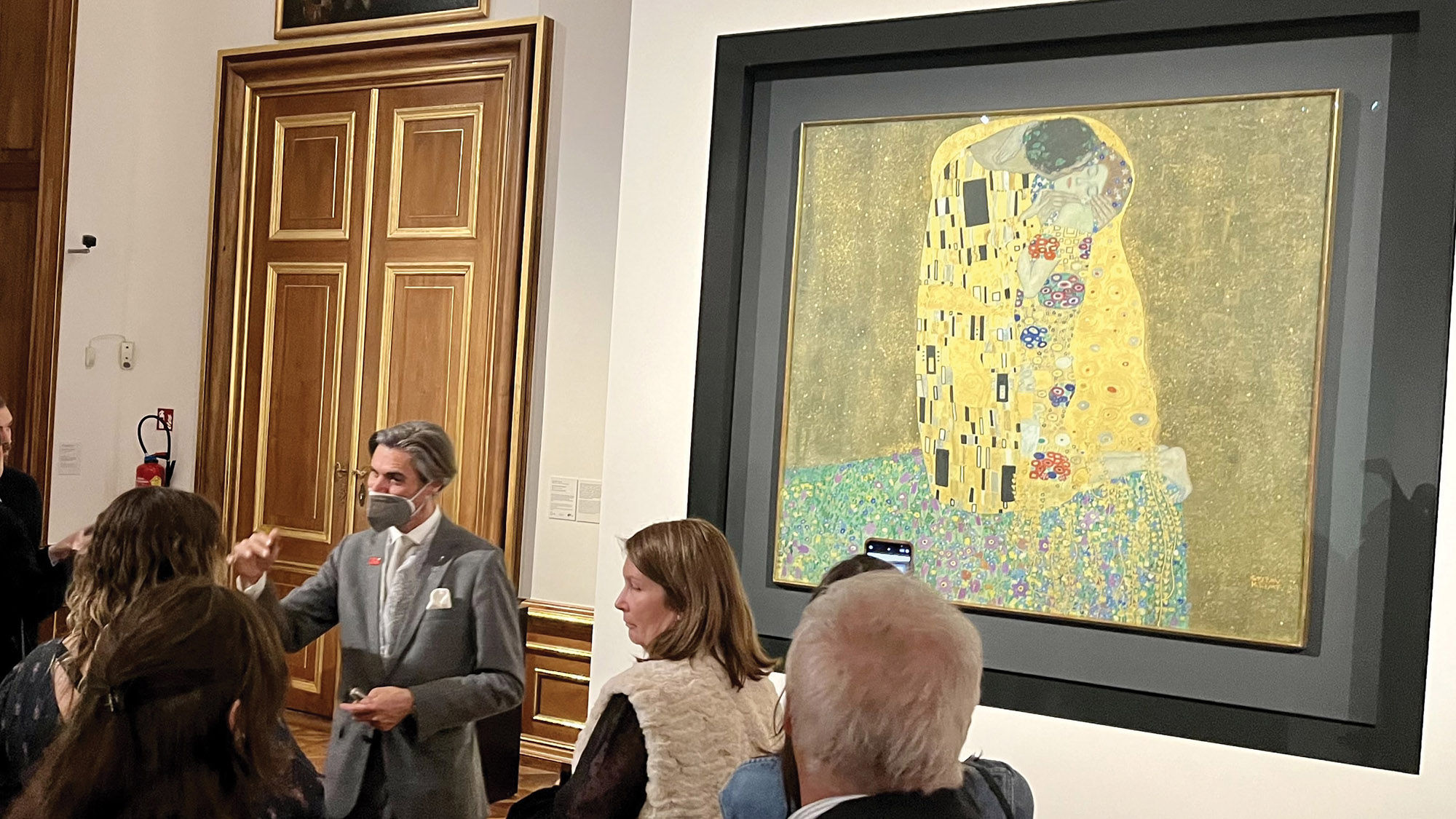 Guests aboard the Avalon View's inaugural sailing, which included travel agents, journalists and other invitees, got a glimpse of the Active & Discovery excursions throughout the four-night cruise on the upper Danube from Vienna to Bratislava and Esztergom, Hungary.
In Bratislava, options included an active hike through the Raca vineyards, where participants got an up-close look at the winemaking process; a scenic drive to a castle along with a walking tour of the city; and a Warhol-inspired painting workshop, which also included a city center walking tour. 
And Active & Discovery excursions don't just cover the daytime; there are also night excursions that offer a chance to see a different side of visited destinations. In Vienna, a private tour of the Belvedere Palace Museum enabled christening guests to view original works by one of Austria's most famous painters, Gustav Klimt, including his most iconic painting, "The Kiss."
The Avalon View will sail the upper Danube for the remainder of 2022, with up to seven-night, eight-day itineraries that will visit Austria, Hungary, Germany, the Czech Republic and Slovakia.
The ship is also scheduled to offer a few sailings on the lower Danube in 2023 that will visit destinations in Croatia, Bulgaria and Romania, all the way to the Black Sea. Much of the Avalon View's sailings will initially take place on the Danube, with limited offerings on the Rhine, as well. 
Source: Read Full Article